Woodbridge Area Dodge Dealership Receives Customer First Award of Excellence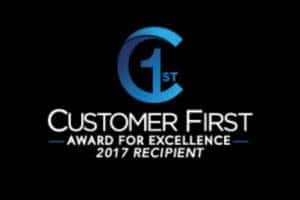 The Customer First Award of Excellence is an elite status that FCA US LLC dealerships can be recognized by for their above and beyond achievement with consumers as leaders in customer sales and service experience.  FCA US created this award with dealer partners and J.D. Power to elevate customer satisfaction with the dealerships, with a specific focus on the sales and service experience, employee training and facility conditions. Dealers that are eligible to obtain this award have completed all of the required program goals over a certain period.
At Safford Chrysler Jeep Dodge of Fredericksburg, we're pleased to announce that we were one of the recipients of this prestigious award for 2017! Customers always come first here and we never fail to keep that in our minds on a day-to-day basis. If you are wondering what our customer service department is truly like, read a few of our positive Dodge customer testimonials from Woodbridge area customers!
Five Core Pillars Have Been Met by Our Dealership to Obtain This Prominent Award
The Customer First Award for Excellence initiative was introduced to dealerships in October 2015. Dealers participated in workshops across the country, where they learned of the award requirements, as well as dealership best practices. Some have even worked with independently contracted CE specialists in order to seek the highest levels of process and procedure improvements to ensure an increase in customer satisfaction. We have taken numerous steps and have applied each helpful tip toward our dealership goals to reach maximum efficiency and satisfaction. At our Dodge dealer near Woodbridge, we place our customers first when it comes to purchasing a new, used or commercial vehicle.
In order for dealers to achieve this award, a core of five pillars must be met within the required amount of time. These pillars include, Facility, Customer Process, Performance, Employee Survey and Training certification.  All of these categories have listed requirements that the dealership must meet and perform up to in order to be eligible.
"We are extremely impressed with the accomplishments these dealerships have been able to achieve in a short amount of time. We gave our dealer body the challenge to join us in focusing on increasing our customer satisfaction, loyalty and service retention and through the core pillars of this initiative, these dealers have shown that it's achievable. These dealerships will be able to proudly differentiate themselves as elite stores by being winners of the inaugural Customer First Award for Excellence." – Al Gardner, Head of Network Development, FCA – North America.
Above all, we are so thankful to all of our customers, as well as our staff that have helped us achieve the Customer First Award of Excellence for 2017! A lot of hard work and dedication has gone into our process and facility in order to make it better and operate at its full capacity every single time we open our doors. We will take this award as only a stepping stone, and continue to strive to serve our customers with the ultimate care and allegiance. Be sure to stop by our dealership to get the full experience for yourself or contact us at (540) 898-7200 for more information!
View New Vehicle Inventory