Top 5 Grand Cherokee L Tech Features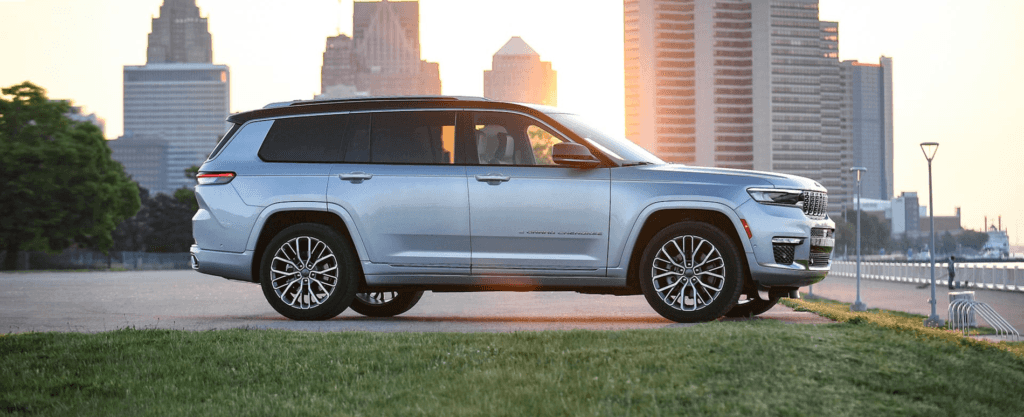 The 2021 Grand Cherokee L has been one of the most sought-after SUVs. It is loaded with state-of-the-art technology features we all swoon over. It was hard to only pick 5 of our favorite tech-savvy features but here are my favorites.
1. Uconnect 5
Stay fully connected to the outside world while out on the road. The Jeep Connect app lets you stay in touch with your vehicle like never before. You have access to safety, security, navigation, and entertainment. Within the Jeep Connect app, you can press an SOS button and an agent will send emergency assistance to your vehicle's location. It will also automatically send an SOS. This feature comes in very handy when an accident does occur and you don't have to go through the scramble of finding your cell phone. The Grand Cherokee L has a large infotainment display that is equipped with the latest Uconnect 5. It is compatible with wireless Apple CarPlay and Android Auto to have access to all your contacts, favorite tunes, and Apple maps all without plugging in your phone.
2. Interior Rear Monitoring Camera
Moms really do have eyes on the back of their heads now. Keep an eye out for all the little ones in the back with the available Interior Rear Monitor Camera without taking your eyes off the road. You are able to select a seat, zoom in, and see exactly what your children or pets are up to. A key detail about this high-definition imaging is that you never have to turn away from the road so you are keeping everyone as safe as possible.
3. Digital Rearview Mirror
Do you know when your road tripping and bags are stacked so high you can no longer see out of your rearview mirror? There's no longer a need for arguing about who packed too much and what need's to go under someone's feet since the Grand Cherokee L has a Digital Rearview Mirror. It uses an LCD monitor that's embedded into the mirror to give you a high-def view of the road behind you. You can use real-time video or turn it off and use the good ole reflective mirror.
4. Massaging Seats
One of my favorite features in the Grand Cherokee L has to be the massaging seats. It makes you feel so fancy and boujee while driving around town. If you're anything like me, you put on your heated seats to alleviate back pain. These massaging seats elevate the driving experience bringing you a little bit of tranquility on those busy days that never seem to end.
5. McIntosh Stereo System
One of the best feelings is driving with the windows down listening to your favorite songs. The luxury McIntosh stereo system is now available in the Grand Cherokee L. For a full-out concert experience, this full-size SUV has 19 custom speakers, a 10-inch subwoofer, and a 17-channel amp delivering 950 Watts of power.