Tips For Decorating Your Patio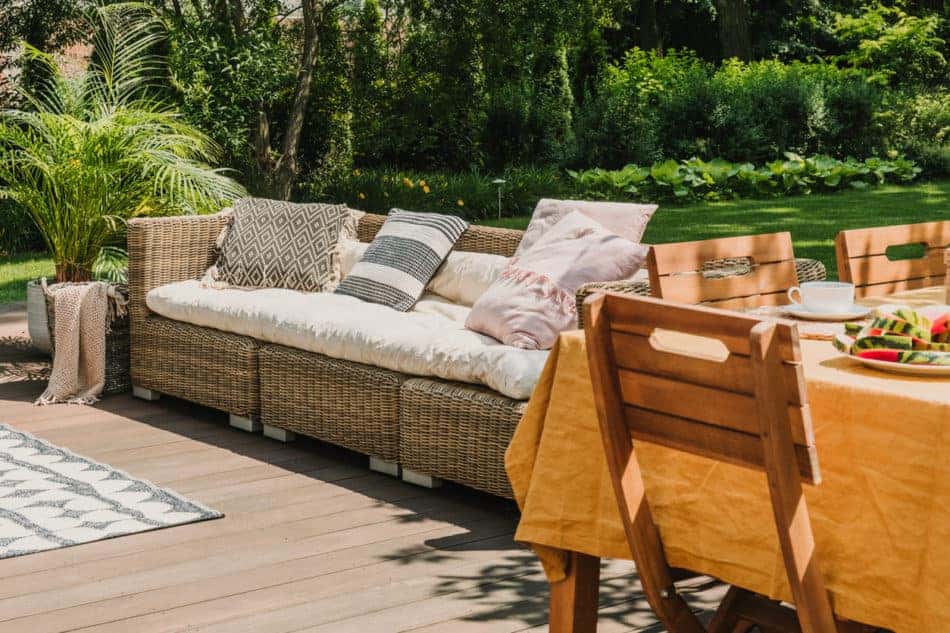 Ready to dust off your patio and start from scratch? Check out these tips for decorating your patio, so you can enjoy your new summer oasis.
Pillow Tips
Pillows are great for adding character to your furniture. However, it can be expensive and difficult to find water-resistant pillows in the style or color you desire. Spraying indoor pillows with a couple of layers of Scotchgard Heavy Duty Water Shield protects your pillows from fading or bleeding outdoors. A pillow on your patio also sets the mood by creating comfort for your guests.
Seating Tips
Outdoor ottomans are great for extra seating! You can set them by your fireplace or coffee table. Make sure you purchase water-resistant ottomans to protect them from moisture. If you are looking to snag a deal, be on the lookout for common sales and bundles at stores like Target.
Tray Tips
Adding trays to your table space and stacking them can bring an indoor feel to your patio. Plus, the trays can come in handy for outdoor meals or drinks. To protect the wooden trays from moisture, spray them with a layer of clear matte sealant.
Umbrella Tips
If your patio does not already have a shade covering, an umbrella or two is a great way to add some shade. Umbrellas with stands allow you to move them to other areas of the patio.
Plant Tips
If you do not have a green thumb, find plants that are easy to manage. One good option is an asparagus fern, which only needs to be watered once a week.
No matter the plants you have, bring your patio to life by elevating them! This will bring the plants to eye level and help fill in empty wall space or camouflage things you want to hide.
You can also add a pop of color to your plant selection by arranging flowers in vases. These can be flower clippings, leaves, or branches from your backyard. You can put them in any size vase or hang them in a basket or pot. This ties in elements from your backyard environment to your patio.
You might also like: What To Bring For A Day At The Lake
Lighting Tips
If you want to add ambiance to your patio, slip a solar light into your vase to cause your plants to glow! You can use any tables on your patio to elevate candles or lanterns. A good table for this is an outdoor console table. Also, hang string lights on the roof of your patio, around trees, or in plants to add some inner sparkle to your outdoor entertainment area.