New 2022 Grand Cherokee Available Now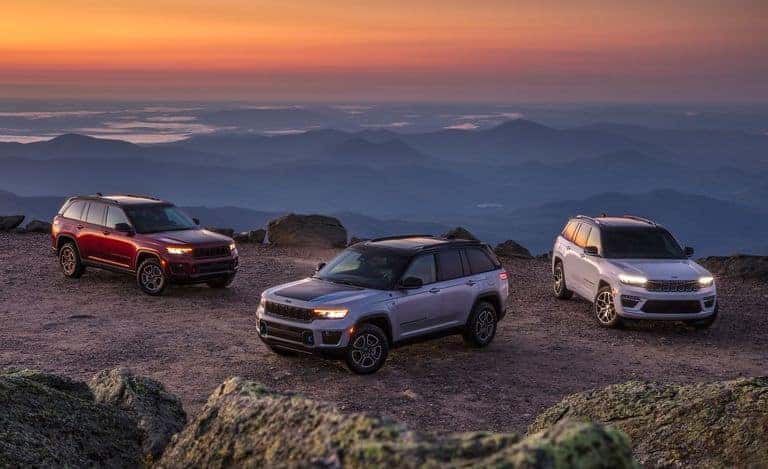 The Grand Cherokee makes its return in 2022 with new features and upgrades to ensure it stands out as the best SUV on the market today!
High Expectations
Today the highly anticipated 2022 Grand Cherokee was finally revealed, and to no ones surprise, the high-end vehicle did not disappoint in the slightest. Launching a new generation of a successful SUV line like the Grand Cherokee is no easy task. Since the Cherokee lineup was introduced almost 30 years ago in 1993, the Jeep Grand Cherokee has become the most awarded SUV in the world as well as one of the best-selling SUVs in the world! With more than 7 million sales worldwide, the Grand Cherokee sets the bar high and still manages to deliver with the changes made this year for the 2022 Grand Cherokee.
Whats New?
This year the 2022 Grand Cherokee becomes the first Grand Cherokee to offer 4xe electrically-powered capability. This advanced electrification approach helps deliver more power to the vehicle by increasing on-demand torque from maximum traction and four-wheel-drive performance. When the vehicle is in full-electric mode it emits zero emission in order to improve sustainability and protect our precious environment. Visually the exterior of the 2022 Grand Cherokee has been tweaked to be slim sculpted and more modern in appearance. Inside the SUV is where you'll find the next generation interior with world-class craftsmanship, making this Grand Cherokee the most luxurious yet. The new active driving assist system and upgraded high-definition rear seat entertainment system are just a few reasons why the 2022 Grand Cherokee should be on your radar.
Off-Road Trim
One of the main points of emphasis the Grand Cherokee tried to tackle this year was the SUV's off-road capabilities. In order to increase off-road performance, the Trailhawk off-road trim was designed to ensure smooth driving on more harsh terrain. The Trailhawk trim includes Goodyear Wrangler Territory all-terrain tires for elite traction and handling for rocky and rough roads you may be traveling on. The Trailhawk also features the most sophisticated four-wheel-drive system available right now called Quadra-Drive II which has a transfer case and an electronic limited-slip rear differential. For more information on the 2022 Grand Cherokee, be sure to visit Safford of Fredericksburg for more information today!