It's A Jeep Thing Event Coming Soon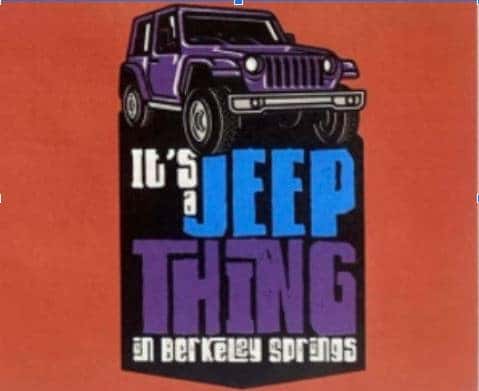 If you're looking for something exciting to do later this September, you should definitely check out the "It's A Jeep Thing" event in Berkely Springs, WV.
When is it?
The Jeep-centric event kicks off on Friday, September 24, and ends the following Sunday on the 26th. Turn up together with other Jeep owners or vibe out solo during the Jeep'n'Greet at the incredible Cacapon Resort State Park in Morgan County. Make sure you bring a full tank and an empty stomach because you don't want to miss out on the delicious food trucks circling the parking lot party with the hottest music jams to go with it.
Suppport the Xtra Mile Foundation
After the meet and greet on Friday you should be well acquainted with a few new faces as well as someones to prepare you for what Saturday has in store. The day will begin with a ribbon-cutting ceremony for the boys and girls club at 10 am and will be quickly followed up with a Rubber Ducky Race. The purpose of the race is to support the boy and girls club of Morgan County, the Xtra Mile Foundation, and of course year-long bragging rights, but that's a given. You'll have the chance to sponsor your ducks online before the event, or during the event in person so there are different ways to win. Later on, you'll end the day at the Engine Block Party with tons of people and musical guests. Live music will also be provided by the electric "Hot Buttered Elvis" so you can jam out in style before you call it a night.
Win a Grand Prize
Finally, on Sunday the event will close with a scavenger hunt as players go head to head to see who is the most resourceful amongst the proud Jeep supporters. The team made sure that all paths chosen are creative with many different engaging and fun destinations to explore. All participants that successfully complete the scavenger hunt will be entered in a ballot to win the surprise Grand Prize that the weekend has to offer. Set your calendars early and make sure you don't miss what we have in store for you this September on the 24th through the 26th. Also if you are in the market for a Jeep then Safford CDJR of Fredericksburg has you covered with many different exciting and affordable models to choose from.