Master How To Change A Tire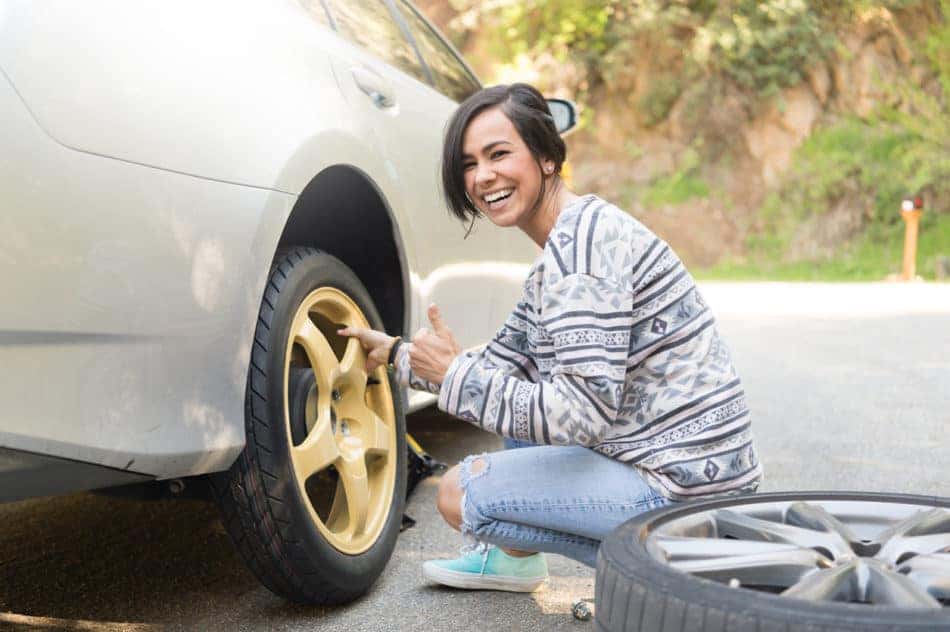 So, you're driving down the road, and you start to hear a noise from the front or back of your vehicle — don't panic. It's probably just a blown-out tire. While it may put a damper on that day's plans, by studying up and being prepared for you this scenario, you can have your tire changed in no time. Follow these steps to change a spare tire, so you can get your day back on track without the assistance of anyone else.
First, you should know, before doing anything, pullover safely off the shoulder of the road, or even better, drive to a parking lot if you can. Although, you must drive as slow as possible. Once you arrive at a safe destination, make sure you use your emergency brake before proceeding.
Step By Step Instructions
Locate your spare tire. While it will vary, some vehicles carry them in their trunk, under cargo space, while others have them mounted behind or under the vehicle.
Once you locate the tire, you'll find some very helpful step-by-step instructions attached to the tire to guide you through the process.
Now, insert your lug nut wrench into the jack stand. Turn, turn, turn!
After the lug nuts have loosened, whether you used the power of your foot or a wrench, it's time to position the jack stand properly. There should be some sort of indicator, whether it's wording or an arrow. Use the lug nut wrench to open the jack, or until the tire is fully off the ground and in the air.
Now, you've made it thus far — let's apply that spare tire. To do so, straddle the wheel, so you will have the power to handle the heavy spare. After you lift and insert the tire on the studs, you're going to need to apply the lug nuts once again.
After, lower the vehicle back to the ground, and remove the jack stand. Then, you can fully tighten the lug nuts.
It's that simple!  You can dispose of your no-good tire properly and hit the road. Although, don't forget to turn off your emergency brake.
You might also like: Scoop Out Any Of These Yummy Salsas
Safford Chrysler Jeep Dodge RAM of Fredericksburg
If you're in need of some new tires or any vehicle service, our skilled technicians will be happy to serve you. Make an appointment with us today!