Get Your Fill of History in Fredericksburg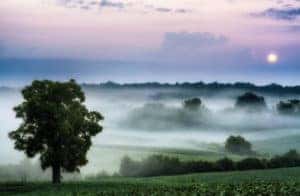 There is something about the historic city that our Jeep dealer is located in that makes it different. Its quaint downtown is home to many unique shops, but what makes it truly special are the historical sites that pay homage to events that helped shape our nation.
One of the finest things you can do in Fredericksburg is tour the countless historical sites that cover our area. From George Washington's boyhood home to the field where one of the most decisive Civil War battles was fought, this town has plenty of history to experience. Here are a few places you should check out as spring finally sets in:
Aquia Church
Those architecture buffs looking for a perfect example of a colonial church will find it right here at a church that's been in use for over 300 years! The Aquia Church was built between 1751-1757 and is comprised of the locally harvested Aquia stones that were also used to build the White House and U.S. Capitol building. It still houses the original three-tiered pulpit and great sounding board as well as the Lord's Prayer hand-painted in calligraphy. Tours are given Monday-Friday from 8am-5pm and weekly church services are open to the public every Sunday.
George Washington's Childhood Home
Ever wonder where one of our founding fathers came of age? It's right here in Fredericksburg at Ferry Farm where George Washington was raised. Stop in the visiting center to see archaeologists working on colonial and Civil War artifacts or tour the grounds that feature gardens growing plants found in 18th century gardens. Check out the Ferry Farm website for updates on special upcoming events.
Civil War Battlefields
The Fredericksburg area is a must for Civil War aficionados because of its bounty of historical sites like the Chatham house, the Christ Episcopal Church, which served as a field hospital, and of course, the famous battlefields of Chancellorsville and Fredericksburg. You could spend a week visiting the museums and battlefield sites alone in our area, which is exactly what we recommend you do!
If you need a vehicle capable of getting your family to see all of the history around Fredericksburg this summer, please visit our Fredericksburg Dodge dealer today!