FAQs
Tire Rotation and Balance
Tire Rotation and Balance
What is Wheel Balancing?
Tire and wheel balancing is a process that compensates for weight imbalances between the wheel assembly and tire. Weights are placed on the wheel in order to "balance" the entire wheel & tire assembly to provide a smooth ride. There are two types basic types of balancing: static and dynamic.
Static Balancing is a single plane balance. This type of balancing compensates for vertical movement which can cause annoying vibrations
Dynamic Balancing is a dual plane balancing method. This address both vertical and lateral movement of the tire.
Improperly balanced tires can put stress not only on the tire but on your suspension. This will affect the wear and longevity of your tires, as well as the components of your suspension system. Making sure your tires are balanced will not only improve your vehicle's safety but save you money in the long run.
Not a one-time service
When you purchase a set of tires from our Richmond area Dodge repair facility, the installer will usually balance the tires at that time. However, as the tire wears and you hit obstacles in the road that balance shifts, you should have your balanced checked at your manufacturer's recommended intervals, or anytime that you experience a vibration while driving over 40 miles per hour. It is also recommended to have a tire balanced anytime you have it patched.
Rotating your Tires
Tire rotation is an easy but important piece of vehicle maintenance that will improve vehicle performance, and save you money on tires over the long term. Rotating your tires at a regular interval can help even out wear from side to side and front to back. This will allow the tires to perform at their best, while also keep extending the life of the tires. The tires on your front axle generally experience very different stress and perform a different task than the tires on the rear axle. Those tasks and the loads will also vary depending on your drivetrain; for instance, the stresses of a front-wheel drive vehicle (FWD) vs an all-wheel drive (AWD) are quite different. Those differences will determine how and how often you rotate your tires. Please check your owner's manual for the proper interval and rotation pattern for your vehicle.
Four Wheel Tire Rotation Patterns
There are three generally accepted patterns of rotation for vehicles equipped with non-directional tires and the same size rims front and rear. The diagrams below illustrate all three; Figure A: Rearward Crossing, Figure B: X-Pattern, and Figure C: Forward Cross. You will note that Rearward Cross is for Rear and Four-Wheel Drive vehicles. The X-Pattern can be done on all four-wheeled vehicles. And the Forward Cross is for Front-Wheel Drive vehicles.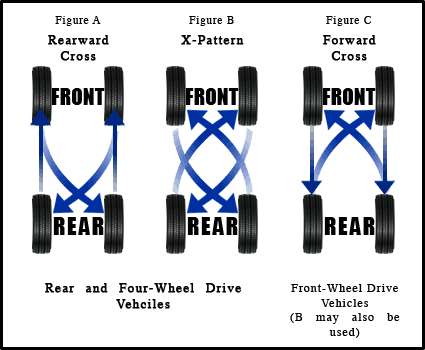 A more recent trend in today's vehicles is to use either direction tires or staggered wheel sizes. In response, the Tire & Rim Association has developed two acceptable rotational patterns. It is important to note that neither pattern provides even wear unless the tire is dismounted, remounted, and balanced. Figure D illustrates the pattern for vehicles with the same size directional tires at all four corners. And figure E illustrates the pattern staggered wheel size with non-directional tires.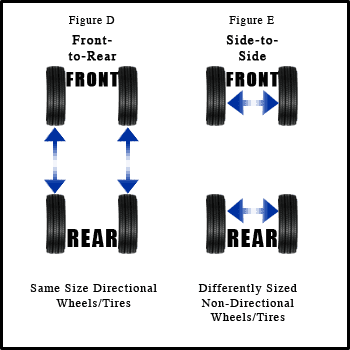 My vehicle has five full-sized tires, what do I do?
While most vehicles do not come with five full-sized wheels, some still do. Vehicles like the Jeep Wrangler come with five full-sized tires, and matching wheels. You may want to rotate all five of them. If so you should follow figures F and G.
On front-wheel drive vehicles rotate the tires in a forward cross pattern. (Figure F)
On rear-wheel, all-wheel, or four-wheel drive vehicles rotate the tires in a rearward cross pattern. (Figure G)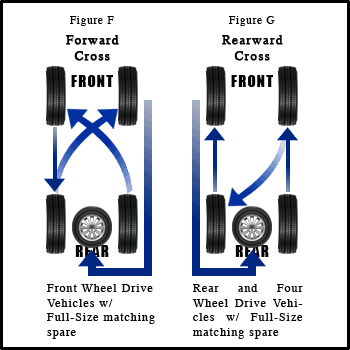 Rotating Tires on a dual rear axle (Dually).
If you drive a vehicle with a dual rear axle, or dually, it is still important to rotate your tires. When you hit your service interval you will want to inspect the wear of your vehicles so that you choose the correct pattern. Duallies are often used for many different kinds of jobs, and therefore are subjected to many different stresses. Each vehicle will wear differently dependant on road conditions and the use of the vehicle. In figure H you will see the four generally accepted patterns of rotation. As always check with your vehicle's owners manual for guidance.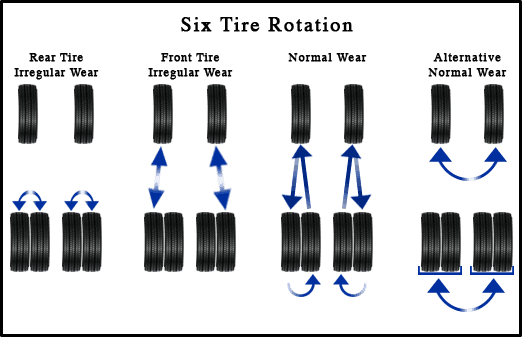 Hopefully, we've answered all of your questions. But, should you have more questions, or would like to schedule an appointment to get your vehicle's tires rotated, balanced, or both please just give us a call at (866) 326-5230 or schedule your appointment online for expert tire service done by efficient professionals!