Select The Right Mirror For Your Foyer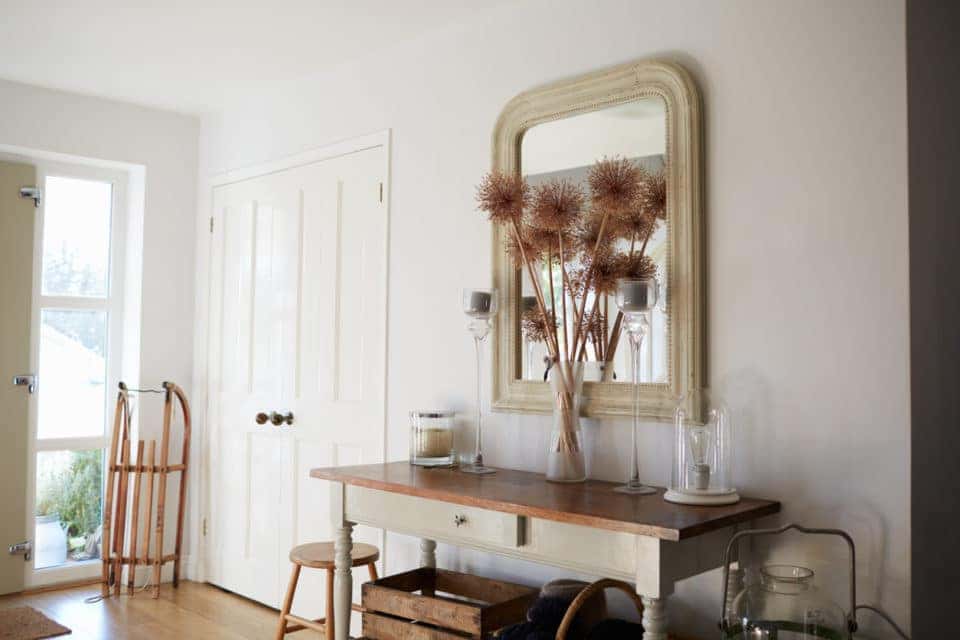 Mirrors in the entryway serve a dual purpose – they help tie the space together and give you one last chance to look at yourself before you head out for the day. Finding the right one to match your space and style can be tough, but these tips make it simple to find your perfect accent mirror.
Assess Your Needs
Do you need a full outfit check before you head out for the day or just a quick peek in a mirror to make sure that you don't have anything between your teeth? Or is this mirror purely for decoration? Knowing what you do and don't need from a mirror will help you decide what kind and size of mirror you need.
Assess Your Space
In general, the size of your mirror should be guided by the width and height of your entryway. For example, a wide entryway with tall ceilings would benefit from a wide full-length mirror or a wide mirror propped against a credenza. In a narrow entryway with tall ceilings, a narrow full-length mirror will work best. Narrow with short ceilings? Stick to a smaller round mirror. A wide entryway with short ceilings would benefit most from a wide but short mirror.
Consider Placement And Furniture
The furniture you have in your entryway will also guide the type and size of your mirror. If you already have a gorgeous credenza to help with storage, consider propping a mirror against it or hanging a circular mirror above it. if you're utilizing a bench and pegs/coat hooks, a full-size mirror or a large mirror hung over the bench would help tie the space together.
Mirror Style
Contemporary? Square? Vintage? The entryway mirror is a fantastic way to showcase your style and add a unique finishing touch. There are lots of vintage mirrors to be had on online reselling marketplaces as well as antique and thrift shops. Three-panel vanity mirrors from yesteryear would look incredible hung over a bench or credenza. As for the modern options, the sky is the limit! From rattan starburst to matte black circular mirrors, there's an accent mirror for every taste and style.
You might also like: Drive Safely With The Jeep Wave Program
Go Big
At the end of the day, it's hard to have too big of a mirror in your entryway. As long as it's not taking up the entire wall, a big mirror will make a bold statement. Alternatively, you could consider creating a mini gallery wall of mirrors!