What Does That Light Mean?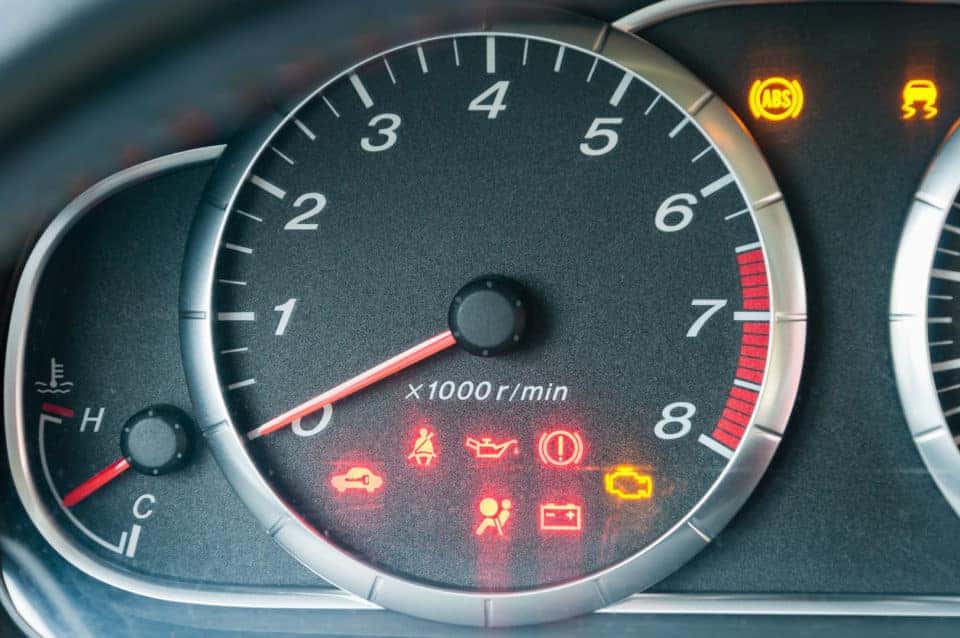 If you've ever wondered what the lights and symbols on your dashboard mean – and whether or not it's an immediate issue – then this is the field guide for you! Let's see what the lights on your dash mean.
Immediate Attention Lights
If one of these lights is illuminated, you should check the system at hand as soon as possible and likely schedule service.
Tire Pressure Warning – this light has an exclamation point inside of a tire symbol and lets you know that your tire pressure has dropped below a safe level.
Engine/Transmission Temperature – this light looks like a thermometer ( inside of a gear for the transmission) and tells you that the temperature in your engine and/or transmission has exceeded the normal threshold.
Check Engine Light – if the engine symbol light is illuminated, it means that the system in your car has detected an issue. Schedule service promptly.
Suspension Lights – the adaptive suspension light kind of looks like a person while the air suspension light is a car symbol with arrows underneath. Both lights indicate an issue with the system at hand that needs quick attention.
Battery Charge Light – when the symbol that resembles a battery comes on, it means that your battery is not properly charging, and usually means that you need a new battery, or less frequently an alternator inspection.
Oil Warning Light – this light looks like an old-fashioned oil can and means that the oil pressure has dropped, indicating that an oil change is overdue.
Headlight Lights
Determining the difference between various headlight symbols can be tricky, but this basic list should help!
Low Beams – the headlamp symbol with downward slanted lines/beams.
High Beams – the headlamp symbol with straight lines/beams. Auto high beams have AUTO written under the symbol.
Fog Lights – the headlamp symbol with a squiggly line that runs through the downward slanted lines.
Adaptive Light System: the headlamp symbol with an arrow and downward slated lines/beams.
Other System Lights
These lights mean that a particular system is engaged or not engaged, there is no malfunction when these lights are illuminated.
Windshield Defrost – a windshield symbol with squiggly upward arrows means that your climate control system is defrosting the windshield.
Low Fuel Level – if the symbol that looks like a gas pump comes on, it's time to make a stop at the gas station when you can.
Recirculated Cabin Air – a car symbol with a bent arrow inside means that your climate control system is recirculating the air already inside the cabin. This feature is useful when it's very cold, very hot, or smelly outside.
You might also like: Fun Activities For Your Kids This Spring
Schedule Service With Us
If one of the warning symbol lights comes on, it's always best to schedule service or head into our service center immediately at Safford Chrysler Dodge Jeep RAM of Fredericksburg.