Try These Sweet & Savory Recipes With Cantaloupe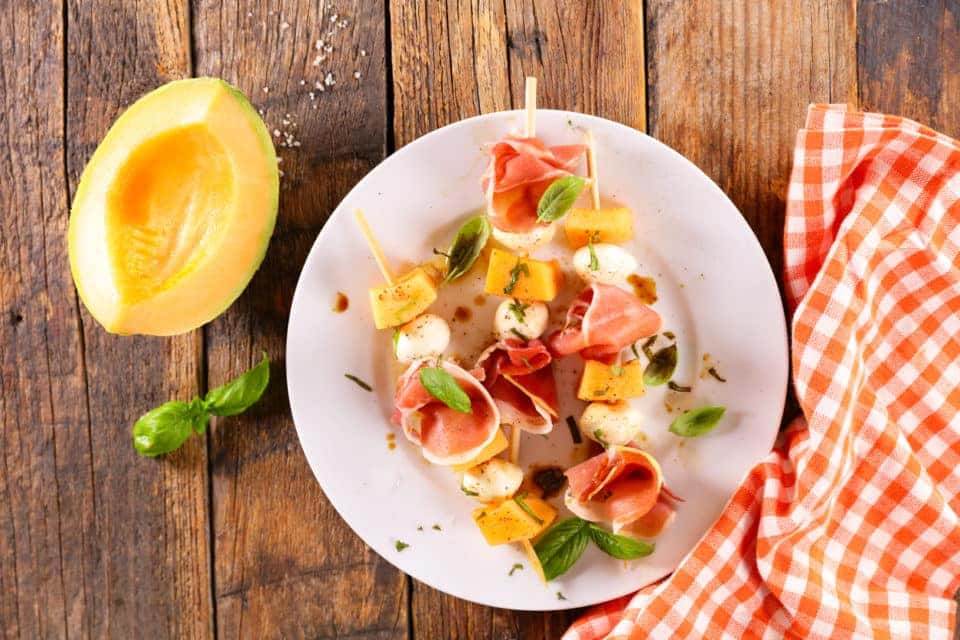 Cantaloupe gets a bad rap for being the crunchy, tasteless melon that no one wants to find in their mixed fruit cup. Thankfully, it doesn't always have to be that way. In fact, but these recipes prove that when served ripe, cantaloupe has an easy sweetness that pairs well with savory notes to create a balanced summer dish.
Cantaloupe and Feta Salad
If you're looking for an easy salad as a meat-free entre or a fresh side dish for your summer meal, this cantaloupe and feta salad fits the bill and then some! With cantaloupe, feta cheese, fresh chopped herbs, red onion, and a tangy balsamic vinaigrette, this salad dances the line of sweet and savory down to the last bite. Plus, even if you dress it the day you make it, it keeps well for several days in the fridge, so it's perfect for a lunch addition or quick snack later in the week.
Cantaloupe, Prosciutto, and Mozzarella Brochettes
This easy and fresh brochette recipe pairs cantaloupe with its culinary best friend: prosciutto. The mild sweetness of the cantaloupe complements the savory saltiness of the prosciutto in an irresistible flavor combination. The skewers also feature fresh mozzarella balls and just about the easiest appetizer or side dish you could whip up this summer. As if the brochettes couldn't get any better, they're topped with a blend of olive oil, basil, and shallot to create a high-impact dressing that takes mere seconds to whip up.
Cantaloupe and Pancetta Pasta Cream Sauce
It might sound crazy, but this unconventional pasta recipe is worth exploring this summer. The cantaloupe cooks down in a large pan or Dutch oven in the rendered fat and flavor from the pancetta and shallot, eventually breaking down completely. The cooked melon forms a smooth base to which heavy cream, salt, pepper, and marjoram are added. The sauce is finished by adding freshly grated parmesan for an extra note of umami.
You might also like: Tips For Decorating Your Patio
Pork Cutlets with Cantaloupe Salad
If you're sensing a porky theme here, you'd certainly be correct! Cantaloupe and any pork product (prosciutto, pancetta, cutlets, etc.) will bring out the best in each other because the sweetness of the melon perfectly balances the brininess of pork meats. In this weeknight summer dinner recipe, marinated pork cutlets are served alongside a fresh cantaloupe salad to make a meal you'll want to eat right up until the end of the melon season.