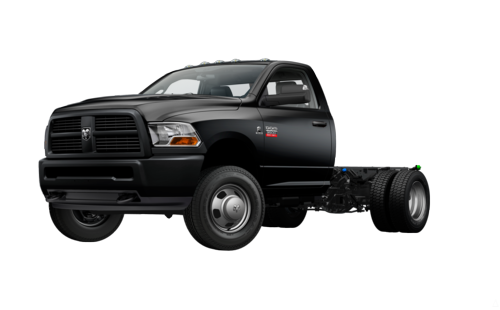 Now available at Safford of Fredericksburg, a leading Virginia Ram dealer serving Fredericksburg, the all new 2012 Ram 3500 Chassis Cab comes fully loaded with a wide variety of performance and safety features that Richmond Ram fans will love.
Designed for Virginia Ram Shoppers

Ram Chassis Cab trucks are specifically designed for towing, with features such as the strongest exhaust brake in the industry – 49 percent stronger than the nearest competitor – and the largest brake rotors and pads in their class. Ram has also upgraded the trailer brake controller on Chassis Cab trucks to include electric-over-hydraulic capability, to further enhance its towing ability.
"Customers are always focused on towing more," said Fred Diaz, President and CEO. "It's a simple matter of economics. More towing and payload means fewer loads. And fewer loads mean lower fuel bills. For commercial customers, cost of ownership is a primary consideration."
At our Ram dealer near Richmond, Ram Chassis Cab trucks offer class-leading performance in many key areas, including a best-in-class combination of brake pad wear, brake fade resistance and exhaust brake performance. They also deliver best-in-class fuel economy. In a recent head-to-head comparison, the Ram 5500 Chassis Cab was 10 percent more fuel efficient than its direct competitor – and that can add up to thousands of dollars a year in owner savings.
The Cummins Turbo Diesel engine, with its proven inline-six architecture and cast iron block and head, has been providing decades of reliable service in everything from agriculture and construction equipment to over-the-road heavy trucks.
Ram Trucks powered by Cummins diesel engines have been the benchmark of power, durability, reliability and fuel economy since 1989, the first model year that Ram offered the Cummins engine. This partnership is defined by more than two decades of long-lasting, hard-working history.
The 3500 is Upfitter Friendly for Virginia Drivers
Maximum upfit-friendliness is achieved with industry-standard 34-inch frame rail spacing and flat, clean frame rails on a proven one-piece C-channel rear-frame rail boasting a best-in-class 50,000-psi steel strength. All chassis components are below the frame surface allowing easy adaptability and versatility for virtually any upfit application.
Further improving upfitter-friendliness, 2012 Ram 3500, 4500 and 5500 Chassis Cabs available at our Richmond Ram dealer feature four all-new upfitter switches integrated on the instrument panel. Each of these four upfitter switches are linked to an auxiliary Power Distribution Center (PDC) located under the hood which includes one fused 20 amp battery feed and one fused relay-controlled 20 amp ignition. In addition to these feeds, the PDC supports four new customizable switches. Two switches are ignition-fed and the remaining two are either battery or ignition. Switch outputs are found under the hood in a connector for further ease of upfit. A seven-circuit trailer harness and a special upfitter jumper cable – a wiring harness for ancillary power needs–are both standard.
Electrical connections are user-friendly thanks to one fused battery feed and one fused ignition feed routed into the cab and to the rear of the chassis. Upfitter wire circuits and electrical schematics are identified in the Body Builder Guide. With built-in tandem PTO capability, all models feature a heavy-duty cooling system in order to meet additional heat loads that are often generated from PTO upfits and/or extreme hauling.